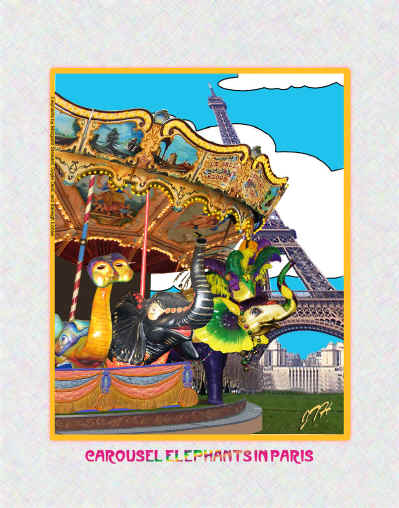 Next, I envisioned the elephants as part of the carousel at the foot of the Eiffel Tower in Paris. This image is made up of parts of a carousel I photographed in Avignon, plus an old photo I took of the Eiffel Tower back in the 1980s (now much distorted), a drawn in coloring-book style sky, and, of course, the Carousel Elephants.
Carousel Elephants in Paris
Today, I decided that the Carousel Elephants would like to celebrate St. Patrick's Day, and here's a quick rendition of them about to enter The Chestnut Tree pub in County Cavan. Looks like they are enjoying themselves!
Happy St. Patrick's Day
See an Out of Bounds (OOB) variation on this on the Out of Bounds page.