Along the way, I have picked up three mini pen/pencil sets. These are tiny, but fun. Here are two of them.
Mini pen and pencil set, probably a golf set, with no name markings at all. The nib on the fountain pen is a Warranted 14K nib and it writes rather nicely. Its small size makes it a little uncomfortable for extended use, but that was not the original intent. Both the pen and pencil are ringtop or vest pocket items. The eraser for the pencil is accessed by unscrewing the ringtop fitting.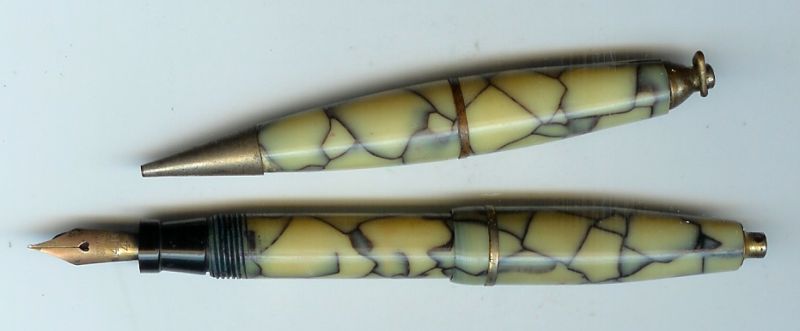 Another mini pen and pencil set, similar to the one above, but even smaller. No maker's markings here, either. The pen has an identical nib to that above, but it is not a ringtop. The eraser for this pencil is accessed by unscrewing the body of the pencil just below the metal band. The barrel of this pen has been discolored by the chemical action of the rubber ink sac. Unfortunately, this type of discoloration is not reversible.

Here's a very different small pen, much higher quality than those above. It's a Sheaffer Petite Balance in Marine Green. The combination of that color, introduced in 1930, and the clip design, which is the original 1929-30 or 31 version, place this pen's manufacture date right in 1930.

Just to give you an idea how dainty the Petite Balance is, here is a picture of, from back to front, Sheaffer Oversize Balance (5 5/8" long, 0.516" girth), Sheaffer full-length standard Balance (5 5/8" long, 0.469" girth), and Sheaffer Petite Balance (4 1/8" long, 0.422" girth).