In the previous installment, we saw how to build a basic four-wheeled work car chassis, deck, and couplers. Next, we will develop this basic unit into several types of work cars. The first one is a steam powered pump car with a small vertical boiler, a two cylinder steam pump, and a hose reel.

I made a mount for the vertical boiler by drilling out the inside of the boiler with a 1/4" drill, then fitting a small piece of 1/4" styrene tubing inside. I glued that tube to a 3/8" square of 0.020" styrene, then fitted a short peg of styrene to secure it to the deck/chassis.

Figure 1 shows the vertical boiler, the steam pump, the hose reel, and the deck drilled and ready for these items to be mounted. I like to use small diameter electrical solder for hose.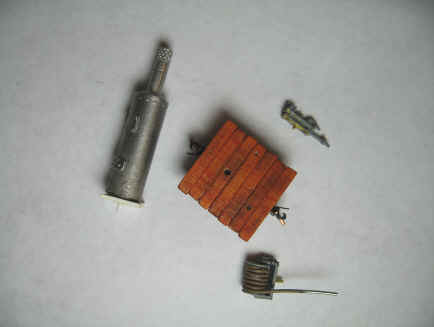 Figure 1
Figure 2 shows the above items set in place on the deck. Obviously there is still piping and painting to be done, plus I plan to add handrails and a brake wheel.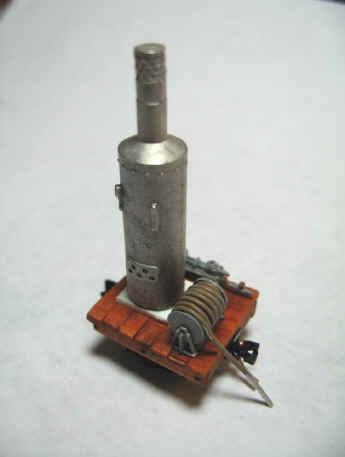 Figure 2
Figures 3 and 4 show some progress on the car. I've painted the boiler with Polly Scale Steam Power Black and the reel and pump with Neutral Gray. A little Rust and Silver, plus some drybrushed black on the pump, reel, and hose add touches. The steam and water piping are 0.025" brass wire. The handrails are 0.025" brass wire, bent with my Grabhandler. The brake wheel is from the parts bin.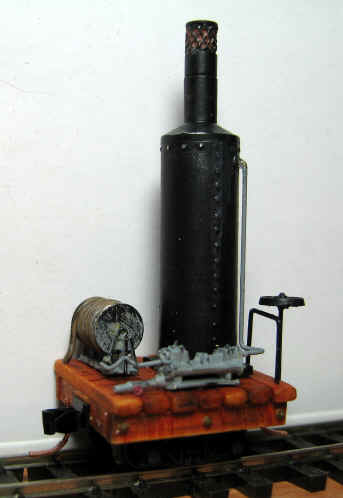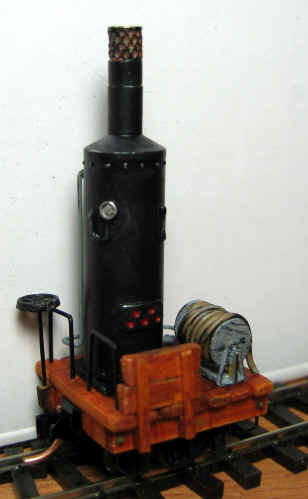 Figure 3 FIgure 4
Here are some pictures of the steam pump car and a workbench car coupled together. The workbench car is a slightly different design, using a left-over bogie from a Parkside Dundas gondola. If you have access to bogies of this sort, they make a very good undercarriage. Unfortunately, I don't, so I've used the MicroTrains archbar truck instead.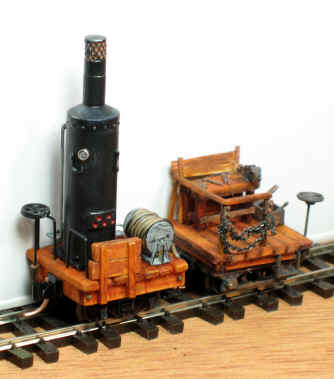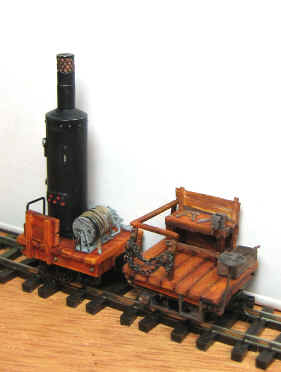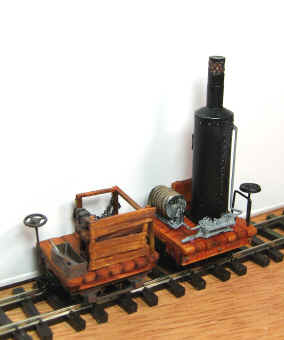 Parts List
Boiler Keystone Locomotive Works HO-20 Small Vertical Boiler
Pump and Hose Reel Cal-Scale WP-287 Water Pump and Hose Reel
Hose Electrical Solder
Handrails and Piping 0.025" brass wire
Paint Polly Scale Steam Power Black, Neutral Gray