Construction began around the first of August 2003.
I have divided the progress description into separate pages to keep download times reasonable.
So, visit
Intital Construction for August 1 - 8, 2003
More Construction for August 10 -18, 2003
Yet More Construction for August 23 - September 18, 2003
and Construction Continues for September 19, 2003 - December, 2004
I started with a three foot length of N gauge flextrack formed into an oval, which yielded a loop about 10 by 12 inches.
Below are a few pictures from the start, middle, and finish of the MSRR Construction, plus a video of the train running on the layout. Details of construction are shown on the pages mentioned above.
Below are pictures of the first evening's efforts. I just could not resist running a train!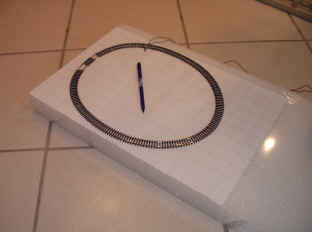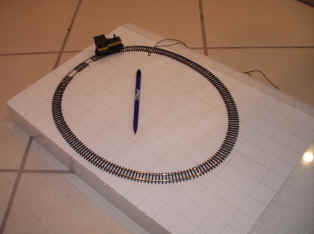 Three foot oval on 2 A size sheets of paper Minitrains Plymouth loco runs
Click on the picture below to see the train run around the oval.
(This probably only works on Microsoft Internet Explorer - sorry)
Also, the server that I am using is pretty slow, so there will be some delay.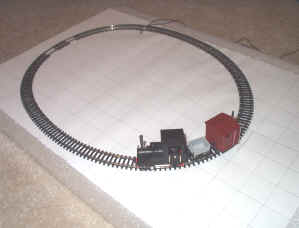 Egger-Bahn 1002 with skip & caboose on oval (7/26/03)
Three months later, this oval had developed into a "pizza" style micro layout, based on the Monte Sano Railroad in Huntsville, Alabama, which was built and went bankrupt over a period of a few years from 1888 to 1896. Elsewhere on this site, you can find my Layout Concept and see the stages of building the layout to completion. The picture below shows the layout after three months (10/20/03)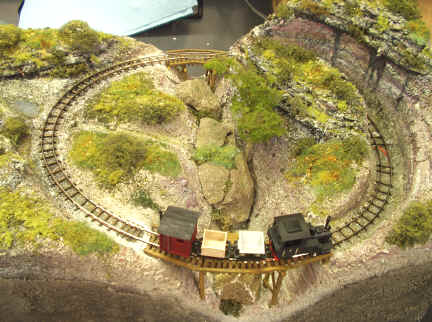 Click this picture to see the train run on the track (10/20/03)
Building the layout continued for the next year. In parallel, I worked on various pieces of rolling stock, including an "Americanization" of an Egger-Bahn 1002 loco. Below is a picture of the rock crusher scene with the Americanized Egger Bahn loco taken on 12/31/04.
Click on the thumbnail to see a large version of the picture.

This page last updated 01/16/2007