The Monte Sano Railroad only had one locomotive, a 26 ton Baldwin steam dummy. Since I started the micro layout with the Monte Sano line in mind, I thought it would be interesting to research steam dummies a little to see if maybe I could model one to run as a somewhat more authentic alternative to the Plymouth diesel and Egger-Bahn steam loco. I posted a query on the HOn30 Yahoo! group and two guys provided me with very detailed information. Some of what they shared is shown below:
Update: Mark Newton examined the none-too-clear pictures of the Monte Sano Railroad's steam dummy and has confirmed that is was a Baldwin. Here are two pictures Mark has annotated with the Baldwin characteristics..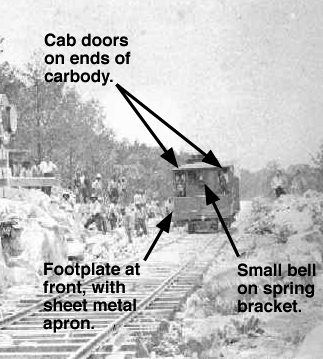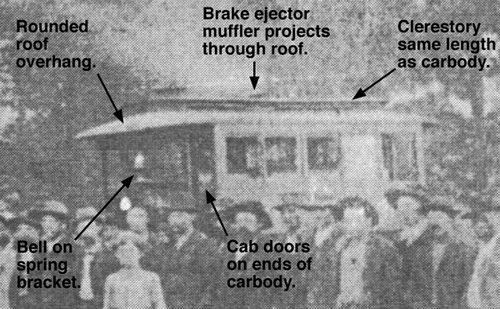 Click on the thumbnails to see the full sized picture. Use your browser's Back button to return to this page.
Pictures and drawings from Mark Newton, Sydney, Australia
30" gauge Porter NSWGT Baldwin Early Canadian dummy
made for Japan drawn by Mark Newton Hamilton & Dundas
Porter 042T NSWGT Baldwin NSWGT Baldwin
wide gauge for Texas pullling doubledecker retired to logging

Stephen Pinkham of Holland, Michigan, supplied several images and suggested the use of the Kato power unit as the basis for a dummy. This unit is very low profile and could probably be hidden inside a dummy rather well. Here is a picture he supplied of the Kato unit:
And, the Monte Sano RR now has a working dummy. It's an Egger-Bahn Firey Elias.